Indoor Cricket area competition
Congratulations to Year 8 Indoor Cricket team for winning the Area Competition this year.
Cross Country
Despite the freezing weather our pupils performed very well at The County Cross Country Competition at South Shields. They all ran well and finished strongly after enormous effort and a 71 mile journey getting there. Well done to Summer, Lila,, Sonny, Conal & Nikola for their superb effort. Conal who came 12th & Nikola who was 9th now run for the County Team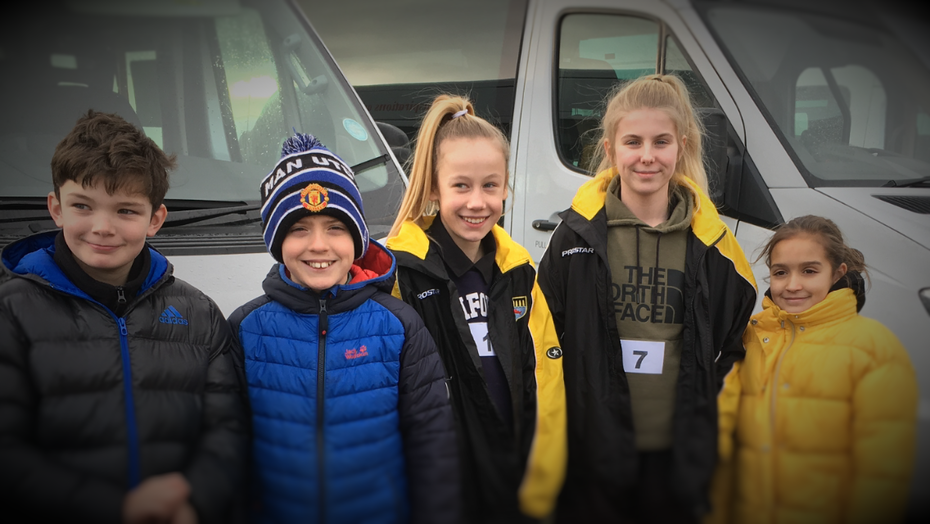 Year 7 & Year 8 Rugby Competitions
(Look out for pupils meeting some of the members of the Scottish Rugby Team)
Our Ethos.....
Sport has always been a strength of Tweedmouth Middle School and it continues to be today. Tweedmouth Middle School has once again been awarded the school games Gold kite mark which has only been gained by a handful of schools in Northumberland.
Our aim is to ensure that all pupils enjoy lessons, make progress, adopt healthy lifestyles and gain the valuable life skills through sport. By the time your child leaves our school we hope to have developed them into polite, confident young adults who have experienced a wide variety of sports.
All pupils recieve two high-quality lessons of PE & Games every week from specialist teachers that enables all pupils to enjoy and succeed in many kinds of physical activity. They will develop a wide range of skills and the ability to use tactics, strategies and compositional ideas to perform successfully. Pupils will be taught to analyse situations, make decisions, reflect on their own and others' performances and find ways to improve them. As a result, they will develop the confidence to take part in different physical activities and learn about the value of healthy, active lifestyles. They will do this through a range of games activities such as rugby, football, basketball, netball, hockey, lacrosse, yoga, gymnastics cricket, rounders where they will taught the principles of attack and defence and team tactics. Pupils will also participate in more individual sports such as badminton, athletics, cross country, gymnastics and dance where they will be able to develop a different set of skills . They will also experience orienteering activities working in groups using problem solving skills.
Reminder....... all boys and girls need football boots and trainers for every lesson
Extra curricular Clubs.....
Football 5,6,7,8
Girls Football 5,6,7,8
Netball 5,6,7,8
Hockey 5,6,7,8
Tag Rugby 5,6
Rugby 7,8
Basketball 5,6,7
Rounders 5,6,7,8
Cricket 5,6,7,8
Athletics 5,6,7,8
Badminton 7,8
Yoga
Zumba
Gymnastics
Volleyball

Sports Leaders.....
For more information about sports leaders click here
Coaching.... To ensure we are always offering the best for your child we regularly invite local sports coaches into school to help deliver high quality sessions to your children. Sports such as, Athletics, Basketball, Cricket, Dance and Rugby
Competition.... In the PE department we believe that it is important that children get the chance to take part in a sport but also to compete. Tweedmouth Middle School take part in the Northumberland School Games, enter area and county competitions and we also hold house competitions.
Gifted and Talented.... Right from the moment pupils begin in year 5 we are assessing each child and identifying talent. Once pupils have been identified as gifted and talented in PE we then aim to support their development as young athletes by, offering advice, making links with local sports clubs, nominating pupils for county trials, getting them to lead drills in lessons and being part of the school's sports council
Sports Teams.... Last year we had record numbers of pupils who represented our school in different teams. We ended up with area, Netball, Football, Rounders and Tag Rugby champions; Northumberland School Games gold medal winners, County champions and runners up. This success has given all our pupils a real sense of achievement and pride.